MANUFACTURING DATES ON FOUND BUTTONS THROUGH. USE OF THEIR PHILA. W. H. HORSTMANN & CO. / NEW YORK Common Button Back Marks. and probable dates of manufacture PHILA. W. H. HORSTMANN & CO. / NEW YORK, HORSTMANN. Help with Button ID - posted in UNIFORMS: Hi AllI recently came across a couple of Bottons and would like assistance in identifying and dating them. They are marked I have several of each and the backmark is consistant with the ones on my coats. HORSTMANN / PHILADELPHIA Back to.
Button Back Marks
Help with Button ID
There is some discoloration on the face but not bad at all. The backmark is D. It looks nice but the back has a push in it.
The backmark is superior quality.
Catalog of button backmarks
The face is pushed in and the shank is bent over but still there. The backmark is Superior Quality. The shank is there but bent over a little. I believe this one is post war.
The shank looks like it was soldered in my pic but it is. Coat size and in excellent condition. This is a nice one! Nice one and hard to find!! There is a push to the back but the front is fine. The back has a push in it but the front is perfect. Volunteer Militia button MS This one has a slight push to the back. Nice shape with just a little green around the rim. There is damage to the outer edge of the button but as you can see the US is quite visible and the shank is still present although bent.
This button was dug near Westpoint, NY. Nice shape with D. This fine example has a D.
horstmann bros & co phil
Extra backmark on it. The backmark is Courtney and Tennent. Several of these show up every year.
"Hortsmann Bro & Co Phila" Can anyone date this backmark?
Re: "Hortsmann Bro & Co Phila" Can anyone date this backmark?
Button Backmarks
They are not from the Civil War era. The back piece is iron and is marked Goodwin's Pat July 27 Excellent button and much cheaper than the Civil War era button! Extra and it's just beautiful! Waterbury on the back but unfortunately it's missing the shank. Still a nice button!
This is a great post war button and hundreds less than the Civil War dated one. I've not seen another but there must be tons out there.
Complete and with a great patina! This button is most like VA in Tice's book. The face has a push to it and the shank is bent over but all there. This button has lots of wear and exhibits a great patina! This is the "Ridgeway Civil War Library", a research tool for educational purposes only, and is provided at no cost to the reader.
Some of the relics listed are retained in the author's collection, most reside in other collections and are not owned by the author. None of the items listed in this section are for sale, please refer to relicman. This is a work in progress, I list items as I get to them, there are many patterns that are not listed yet, this list will be regularly updated as I get pictures and descriptions for more items.
I will also correct mistakes, so if you see any please tell me. All items listed are believed to be authentic to the Civil War or as otherwise described. Any excavated relics have been recovered from private property with owners permission.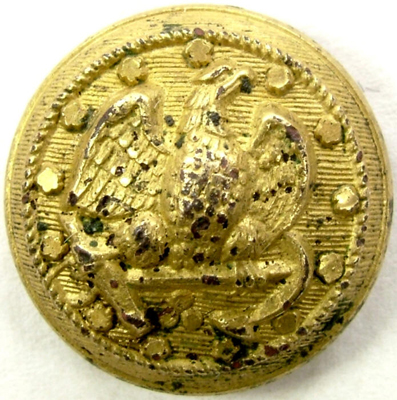 This information is available for research purposes, pictures may be used by permission only. Most information on this page is from: Bazelon and William F.